Top Gun (You Fly)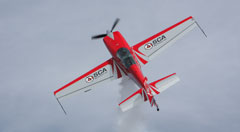 Duration: 3 Hours (approx.)
Location: Henderson, Nevada
Not for the faint of heart, the Top Gun Experience is designed for those who want to get serious about their aerobatic thrills. YOU fly the plane through a complete aerobatic routine.
Twice as long as the Afterburner, the Top Gun is our most popular aerobatic experience. This profile includes the same maneuvers as an Afterburner, but this time, YOU fly the plane! That's right, once our highly trained instructor pilots show you how to do a maneuver, it's your turn at the controls. Don't worry, no flight experience is necessary. There is an identical set of flight controls in the back, so your instructor pilot is there to back you up!
You will be amazed at what you can do in these unbelievable airplanes after a small amount of training. Learn for yourself what it is like to fly a world class aerobatic aircraft as you pull back on the stick to execute a perfect loop. Watch the horizon spin at up to 420 degrees per second as you try out your first aileron roll. Once you have the basics down, learn how to fly a Hammerhead or fly backwards in a hair-raising tail slide. The Top Gun is perfect for those that want to try their hand at basic and advanced aerobatics!
*SOLD OUT ON THE DATE AND TIME YOU WANT? Go ahead and
place your booking as a standby reservation and one of our staff will contact
you to see if we can accommodate your request. Don't worry, your credit
card won't be charged unless we are able to confirm your booking request.