Sky Combat Experience (You Fly)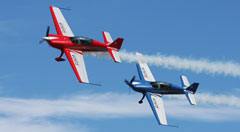 Duration: 4 Hours (approx.)
Location: Henderson, Nevada
Experience the thrill of air-to-air combat as you wage a battle for aerial dominance where there can be only one victor. YOU fly the plane with a trained SCA fighter pilot.
Have you ever wondered what it is like to be a fighter pilot? Stop imagining and discover for yourself the thrill of engaging with another airplane in air-to-air combat. This is not a simulation. You are flying real high performance airplanes with real fighter pilots. YOU FLY THE PLANE! That's right, YOU are at the controls as YOU execute the air-to-air combat tactics that have been developed from the earliest days of the Red Baron. Don't worry, you don't need any flight experience, just a need for speed! Under the supervision of one of our expert combat fighter pilots, we teach you the art of basic fighter maneuvers, which will enable you to outmaneuver your opponent and get the kill.
This is the ultimate competitive challenge! Bring a friend or fly against one of our instructors. Once you hit the merge, it's Fight's On in our amazing 330 horsepower Extra 330LC's, which will give you every thrill of an actual aerial dogfight, including the satisfaction of scoring a direct hit with our optical targeting system and watching smoke come out of your opponent's aircraft. Ideal for groups of 2 or more, including couples, bachelor/bachelorette parties and corporate events, the Sky Combat Experience is sure to fan your competitive spark. No worries if you are travelling by yourself, with a little bit of notice, we are happy to pair you up with an opponent!
Leave your day job behind and become a fighter pilot with Sky Combat Ace!
* Pricing assumes 2 or more people. Single bookings must apply a $500 surcharge to send up an opponent in a second airplane.

*SOLD OUT ON THE DATE AND TIME YOU WANT? Go ahead and
place your booking as a standby reservation and one of our staff will contact
you to see if we can accommodate your request. Don't worry, your credit
card won't be charged unless we are able to confirm your booking request.