Operation Red Flag (You Fly)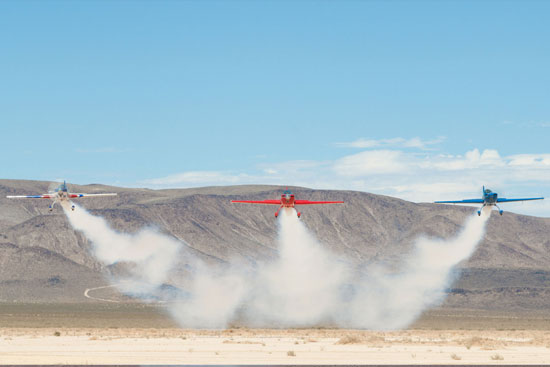 Duration: 4 Hours (approx.)
Location: Henderson, Nevada
For those seeking the ultimate fighter pilot experience, this package is recommended only for seasoned adrenaline junkies. Break into "Blue Air" & "Red Air" teams for king-of-the-hill style aerial dogfighting.
Ideal for groups of 3 or more people, OPERATION RED FLAG is our newest package and is without a doubt, the most advanced air combat simulation in the world. Customers are divided into "Blue Air" verses "Red Air" teams and go head-to-head to see who will reign supreme in the skies over Las Vegas. The "Blue Air" team will be tasked to protect a "High Value Target" (HVT) and the the "Red Air" team will try to sneak past the "Blue Air" to put bombs on target. As the "Blue Air" orbits in a combat air patrol (CAP) over the HVT, an air-to-air war will surely ensue as you experience what is called a "live vul time", where the war is constantly evolving. Since you won't know where the enemy is coming from, participants will need to scan high and low to try and detect enemy aircraft before they roll in at your six o'clock!
Participants will engage in the most challenging of missions, Air Combat Maneuvering (ACM), where there are no breaks between engagements, rather the winner stays and the loser pays in a "King of the Hill" type of scenario. Just like the Sky Combat Experience, YOU fly the plane as your instructor pilot guides you to the merge! The best part is all engagements are scored, so that the results are rank ordered to find out who is truly the Best of the Best!
After you have gotten your fill of air-to-air supremacy, try your hand at advanced aerobatics, including hammerheads, tail slides, spins and lomcevaks. The ultimate in cooperative aerial dogfighting, OPERATION RED FLAG is guaranteed to satisfy the most hardened adrenaline junkies on the planet!
* Pricing assumes 3 or more people. Single bookings in Las Vegas must apply a $1000 surcharge to send up two additional aircraft. For 2 bookings, a $500 surcharge will apply to send up one additional aircraft. For San Diego and Lake Tahoe, there is $3998 surcharge for a single booking and a $1999 for 2 bookings
*SOLD OUT ON THE DATE AND TIME YOU WANT? Go ahead and
place your booking as a standby reservation and one of our staff will contact
you to see if we can accommodate your request. Don't worry, your credit
card won't be charged unless we are able to confirm your booking request.