Combat Wingman (Ride)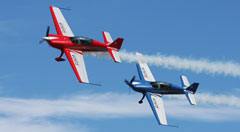 Duration: 4 Hours (approx.)
Location: Henderson, Nevada
Get a first-hand look as a SCA fighter pilot demonstrates their aerial dogfighting skills in a battle unlike any other. Let the professionals show you how it's done.
Have you ever imagined what it would be like to be in an air-to-air dogfight, battling for supremacy of the skies? Well your wait is over! With the Combat Wingman package, ride along with one of our expertly trained SCA fighter pilots as we demonstrate the anatomy of a dogfight. Think of it as 21st century jousting, where the aircraft capabilities are the same and the only thing that determines the outcome is the skill of the fighter pilot! With our state-of-the-art proprietary optical targeting system, you will watch in disbelief as your fighter pilot expertly maneuvers his aircraft to the gun weapons employment zone and blows his enemy out of the sky.
No worries if you are travelling by yourself, with a little bit of notice, we are happy to pair you up with an opponent. Stop wondering what it's like to be a fighter pilot and come see for yourself at Sky Combat Ace!
* Pricing assumes 2 or more people. Single bookings must apply a $500 surcharge to send up an opponent in a second airplane.

*SOLD OUT ON THE DATE AND TIME YOU WANT? Go ahead and
place your booking as a standby reservation and one of our staff will contact
you to see if we can accommodate your request. Don't worry, your credit
card won't be charged unless we are able to confirm your booking request.